First Quarter 2010
Strong Start to the New Year
As seen below, the multiple for which an Allstate Agency is sold relative to its Renewal Commissions continues to increase as the size of an Agency's Renewal Commission increases; a demand driven trend.
Allstate Agency Price to 12MM Earned Premium Ratio (National Average)
$0 to $100,000

$100,001 to $200,000

$200,001 to $300,000

$300,001 and up

Simple Average

Low

High
| | |
| --- | --- |
| Use the arrows to see agency values over time. | prev next |
As noted in the Fourth Quarter Report, that Allstate's implementation of the "Ideal Agency Model" might have an effect on the value of Agencies in 2010 and beyond – at this early stage in 2010, we are beginning to feel the effects.
Larger Agencies Increased in Value
Allstate Agencies with $200,000+ in Renewal Commission Income sold for an increased multiple of commissions, while agencies with Renewal Commission of $300,000+ saw an even greater increase in the multiple of commissions for which they were sold.
During the first quarter of 2010, approved buyers were clearly focused on pursuing Ideal Agency Model status through their increased demand for larger Renewal Commission Income Agencies. They recognized the enhanced value afforded them through the acquisition of a larger agency, which provides increased net income, which can be re-invested in Agency growth and the accumulation of personal net worth. Simply stated, Allstate Agency buyers presently have a preference for purchasing agencies that are near or already meet Ideal Agency standards.
Small Books Decreased in Value
Books with $200,000 or less in Renewal Commission Income sold for a decreased multiple of commissions, and the hardest hit agencies had Renewal Commission Income of $100,000 or less.
The Fourth Quarter Report anticipated that the smallest agencies might experience some increase in the multiple of commissions for which they were sold in 2010. This near term favorable trend in value for smaller agencies was anticipated due to Allstate's Customer Focused Acquisition program, which allows Premiere Service Agents (PSA's) the opportunity to purchase and merge Allstate Agencies with 750 policies or less into their existing location under their existing agency number – hence making these small agencies extremely attractive to PSA Agents.
As it turned out, mixed in among the PSA merger transactions in the first quarter of 2010 were terminated agents selling their agencies well below the average multiples. This often occurred to outside buyers who derive far less benefit from the acquisition of a smaller agency relative to that realized by PSA's, driving the multiple for smaller agencies down even further. The net result has been an overall decrease in the multiple for which smaller agencies are sold relative to their Commission Income.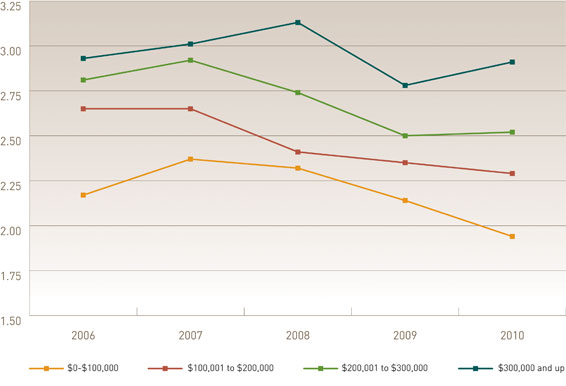 Allstate Agency Value Ratios
Agency Price to New/Renewal Commissions

Agency Price to Total Revenues
| | |
| --- | --- |
| Use the arrows to see agency values over time. | prev next |
Going Forward
Allstate is presently focused primarily on outside buyer candidates (i.e., individuals who do not presently own an Allstate Agency) when it comes to granting approval for the purchase and merger of multiple small Allstate Agencies. Additionally, Allstate is focused on reducing the number of smaller and less effective Allstate Agencies. Therefore, the multiple for which smaller Allstate Agencies are sold during 2010 is largely dependent upon how many smaller agency owners sell as part of a two to four agency acquisition/consolidation transaction with an approved outside buyer. Clearly these types of acquisition transactions will provide the best opportunities for sellers to maximize the value for which they are able to sell their Allstate Agencies relative to Commission Income.
Agency Prices Stabilize
Despite the downward pressure on Agency Value applied by the larger than usual number of small Allstate Agency sales, the average value of Allstate Agencies relative to commissions during the first quarter of 2010 reflected modest gains relative to the fourth quarter of 2009.
The value for which Allstate Agencies were sold relative to their total revenues (includes, bonuses, third-party insurance sales commissions, etc.) continued its modest downward trend in the first quarter of 2010. This is reasonable and understandable as buyers in this difficult and uncertain economic environment are less motivated to pay for less predictable streams of cash flow (i.e., bonuses, etc.).
In contrast to buyers in the past, today's Allstate Agency buyers are paying for proven results and offering very little for an Allstate Agency's perceived revenue/income potential. Buyers want to know that the Allstate Agency they are buying will comfortably support their own personal income needs plus the debt service associated with the agency acquisition loan.
As noted in previous quarterly reports of the Allstate Agency Value Index, Agency Value determined through the agreement on price achieved by a willing seller and willing buyer is "Market Value" and Agency Value determined strictly through the focus on historic cash flow is "Economic Value." At present, it seems that the Agency Market Value for which willing buyers and willing sellers are reaching agreement is very near to the Agency Economic Value, implying that the transitions occurring today are economically sound and much less likely to result in Agency transition failures due to insufficient cash flow.
EXAMPLE: An Allstate Agency being sold with $250,000 in reliable renewal commission income can support about $100,000 in overhead costs (40%), a wage to the owner of $50,000 and debt service for a $550,000 loan (payment of $83,000 annually financed over 10 years) with $17,000 to spare. This assumes a purchase price of $625,000 (2.50 which is in line with the average for agencies this size sold in 2009), and also assumes a significant $75,000 down payment from the purchaser.
| | |
| --- | --- |
| Agency Commissions | $250,000 |
| Overhead | <$100,000> |
| Buyer Living Needs | <$50,000> |
| Loan Payment | <$83,000> |
| Free Cash Flow for Re-investment | $17,000 |